Hot Air Generator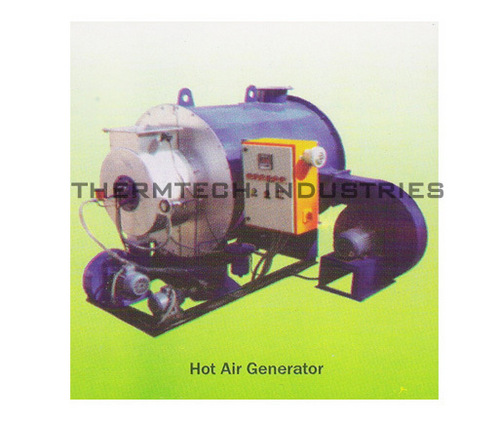 Hot Air Generator
Product Description
The HAG series hot air generators are offered in vertical or horizontal designs, either as standard models or tailor-made models to match customer's specifications and applications. Designed in DIRECT and INDIRECT heating types, these systems are practically free from any maintenance and are highly efficient.
Direct systems find their applications in high temperature drying, whereas the Indirect systems are used where pure air is required for drying. The design is compact & hence space saving. Units are designed for continuous round the clock operation.
The gas fired hot air generator we manufacture is ranging from 50,000 kcal/hr to 15, 00,000 kcal/hr. The payback periods will be 2 to 10 months against oil / gas fired or electrical hot air generators.
Salient features of the RG series hot air generators are:
Very high thermal efficiency up to 80%
Less maintenance due to minimum usage of refractory in furnace
Vertical & Horizontal design
Easy access for maintenance
Less pollution by using dust collectors.
Urable construction
Easy operation and minimal maintenance
High level of safety in operation, thus greater reliability
Optional recirculation system to improve overall thermal efficiency
Fully automatic burner control and temperature control
Units are available from capacities of 20,000 Kcal/hr to 30,00,000
DETAILS

UITS

HAG 10

HAG 20

HAG 30

HAG 40

HAG 60

Rated hit output

kcal/hr

100000

200000

300000

400000

600000

Maximum Air Temp.

C

200

200

200

200

200

Outlet Air Pressure

mm of Water G.

100

100

100

100

100

Approx Hot Air Available at 200C

kg/hr.

2290

4580

6870

9160

13740

m/hr

1910

3815

5725

7585

11450

Overall Thermal Efficiency On GCV

%

86 1

Fuel Oil Consumption for rated out put

LDO (GCV 10200)kcal/kg

kg / hr

10.70

21.5

32.2

45.6

64.3

F.O. (GCV 10200 kcal/kg

kg/hr

-

23.8

39.8

48

67.6


BURNER CONTROL <------------------- ON-OFF -------------------> HIGH/LOW
Electric Supply 415V5% 50 Hz 3ph 4 Wire

Main Air Blower motor

kw

3.75

5.0

7.5

0.27

11.25

Combustion Air Blower motor

kw

0.75

0.75

1.5

2.25

3.75

Fuel oil preheated (for operation o FO)

-

-

3.0

6.0

6.0

Overall
Dimension
(Approx)

Height

mm

1500

2000

2200

2500

2800

Length

mm

2500

3000

3500

4800

4000

Width

mm

1100

1500

1500

1800

2500

Dry Weight

Approx

kgs

1200

2000

2800

3500

5300